Welcome to Wakelyns, an organic rotation agroforestry farming hub in Suffolk and one of the longest-established and most diverse agroforestry sites in the UK.
Agroforestry
Wakelyns is distinguished by the system of alleys and hedges that have been established over the past 25 years making it one of the oldest and most diverse organic agroforestry sites in the UK.
Our 56 acres are divided into cropping alleys which are 12, 14 or 18 metres wide, and in which we are this year planning on growing YQ and Q wheat, lentils, chia, oats, peas, and camelina. We have been busy working on our planting plan for 2020-2022.
The tree rows are home to over 50 varieties of apples as well as pears, quinces, cherries, plums, damsons, apricots, peaches, figs, walnuts, hazelnuts, along with trees for timber and coppiced willow and hazel for thatching, fencing, art and biomass fuel.
You can buy our produce at Hodmedod's.
---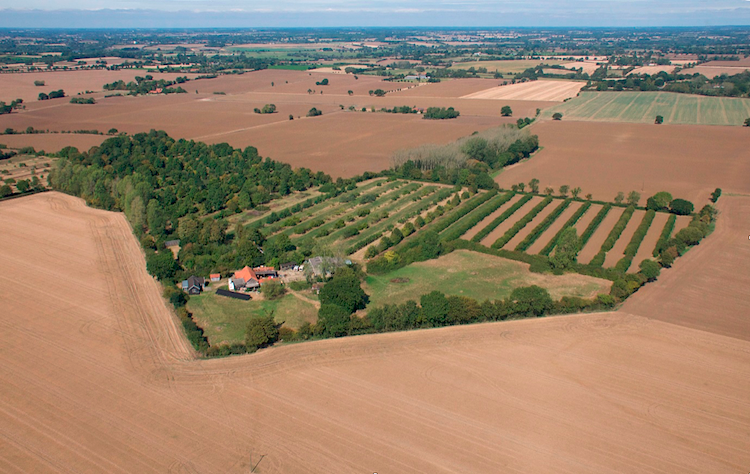 An oasis
Wakelyns sits as an oasis within the Suffolk countryside, surrounded by huge fields growing monoculture crops, mostly for animal feed and overwhelmingly dependent on agricultural chemicals.
---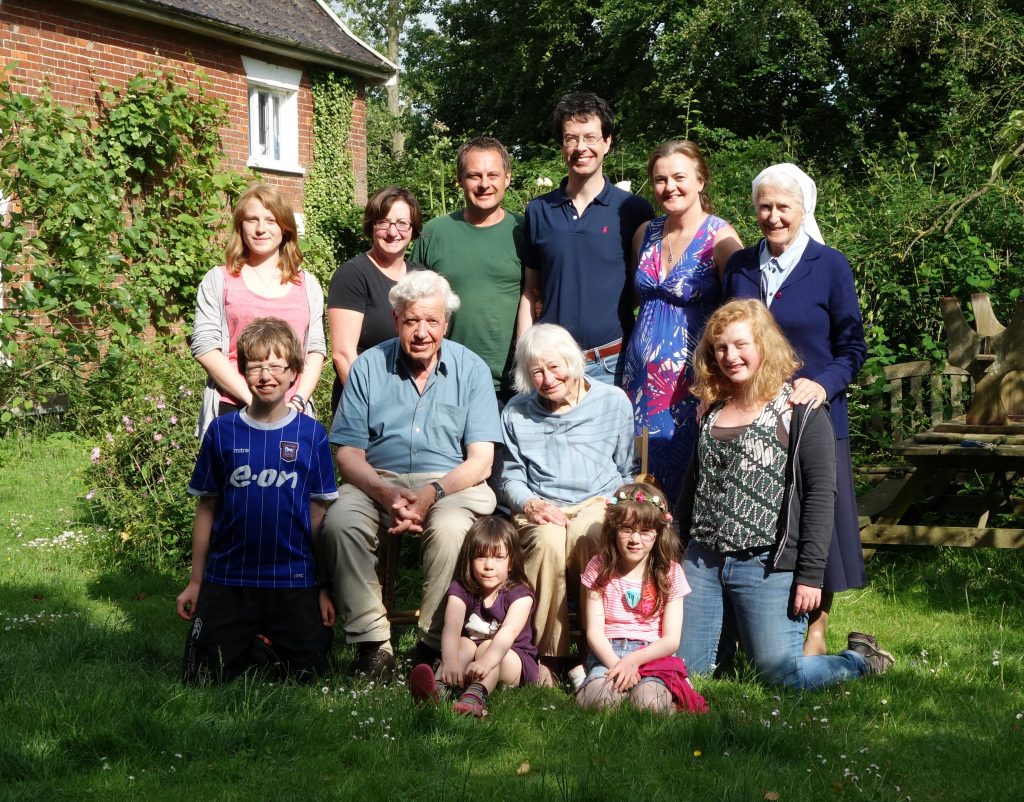 Wolfes at Wakelyns
Wakelyn de Hartshill was apparently given this land in Suffolk in the mid 15th century. The farmhouse dates back to about the 16th century.
Ann and Martin Wolfe bought the farm in 1992 after Martin's earlier scientific career had showed how mixing just three varieties of a cereal crop together could restrict disease and stabilise crop yield.
Their idea was further to experiment with forms of agriculture by using diversity and reversing the trend to crop monoculture though organic rotation agroforestry.
Here's a lovely interview with Ann and Martin on Radio 4's On Your Farm programme from 1997 about their early plans at Wakelyns:
Permaculture Magazine explained it all beautifully in 1996 in the article Trees among the Wheat.
Wakelyns has collaborated with the Organic Research Council's for many years, and in 2004 they produced the leaflet Wakelyns Agroforestry… science for ecological agriculture.
Ann and Martin kept detailed notes on their work at Wakelyns:
More recently, Wakelyns was also featured in The Guardian, explaining agroforestry and telling the story of population wheats and YQ flour:
There's lot of archive material of their life and work at Wakelyns elsewhere on this website.
---
What next?
Following Ann's death in 2016 and Martin's in 2019, the next generation of the Wolfe family is working to keep Wakelyns as a pioneer of sustainability, growing and developing grains, pulses and other important foods.
As part of that, we are gently shifting the focus to make Wakelyns ever more of a demonstration centre for the benefits and beauty of agroforestry, while also bringing a wider range of people to enjoy the things which make Wakelyns such a special place. As part of that, we hosted a symposium of friends of Wakelyns who came up with lots of great ideas.
We hope to build on our links and collaborations across the organic, scientific, farming, food, baking, restaurant, environmental, ecological and political communities, locally and across the UK and beyond.
Led by Ann and Martin's sons David and Toby, we are also developing other activities which support and celebrate the farming and food production at Wakelyns. Plans include returning vegetable growing to Wakelyns, housing a bakery, and creating accommodation to make Wakelyns a hub hosting courses and similar activities, as well as welcoming visitors and holiday makers. Check out our gallery for photos of the farm past and present and events at Wakelyns.
We were delighted to be part of BBC Countryfile Magazine's March 2020 "Positive Projects" – Healing Britain.
In June 2020, we welcomed baker, cook and well-known author, Henrietta Inman, who is now based at Wakelyns.
Watch this space for the amazing archive and explanatory material we'll add in due course. And also more news on what's happening and our plans as they develop.
Follow us and sign up to our newsletter
Also follow us on Twitter, Facebook and Instagram and sign up for our occasional email newsletter.
---