In 2022 we grew Rosanna, Coral and Black ('beluga') lentils – very exciting.

As one of Hodmodedod's growing partners we also included a camelina 'intercrop'.

In 2023 we are growing Olive, Coral and Black lentils in Hazel Field – see more information here.
SPECIAL FOR 2023: CELEBRATE THE LENTILS WITH US AT THE WAKELYNS DAL FESTIVAL ON 5 AUGUST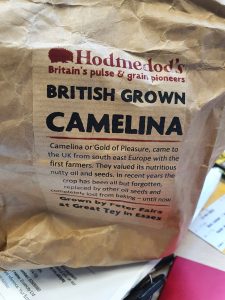 Josiah's lovely video explainer
---
We first grew lentils at Wakelyns experimentally in 2015 and commercially in 2017. Our 2019 crop were green lentils.