Wakelyns offers a special combination for a large family, NGO, or group of friends to get together for a mixture of bespoke activities and relaxation with delicious food from the Wakelyns Bakery as you wish. We are in the heart of the Suffolk countryside, near the Norfolk border, inland from Southwold.
The Wakelyns Farmhouse has 5 bedrooms, each with its own bath/shower room and, from 2022, our Ley Alley Pods each have double bed bunks, making them ideal for two singles, a couple, or adults with children.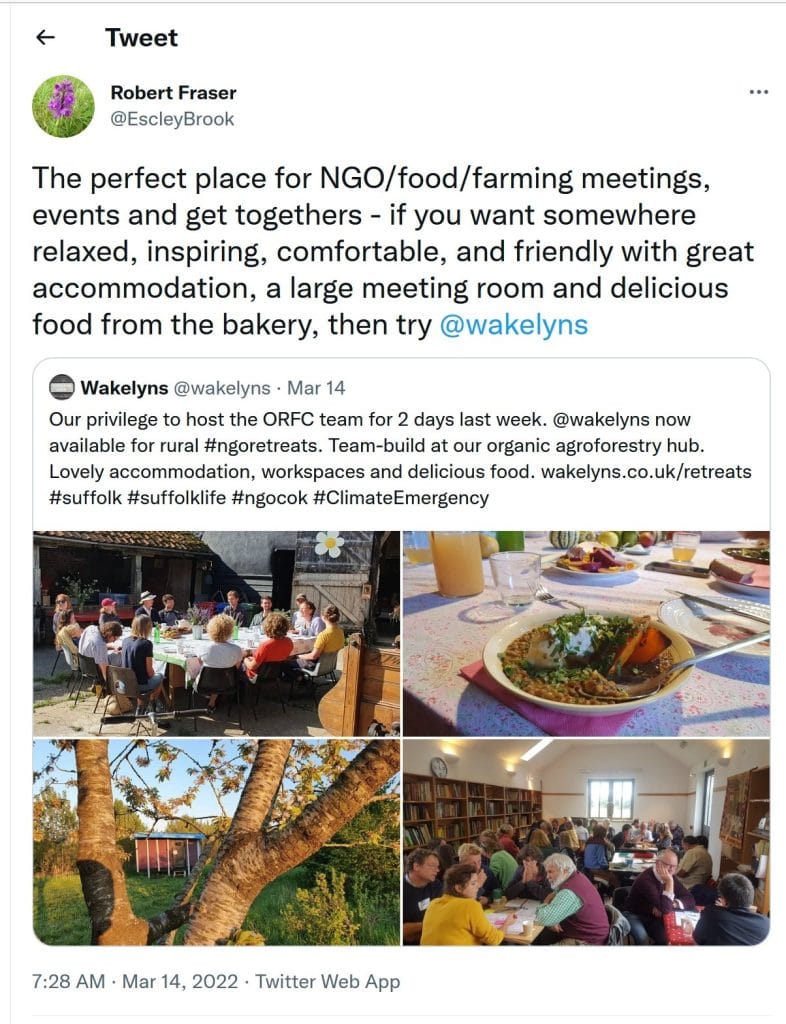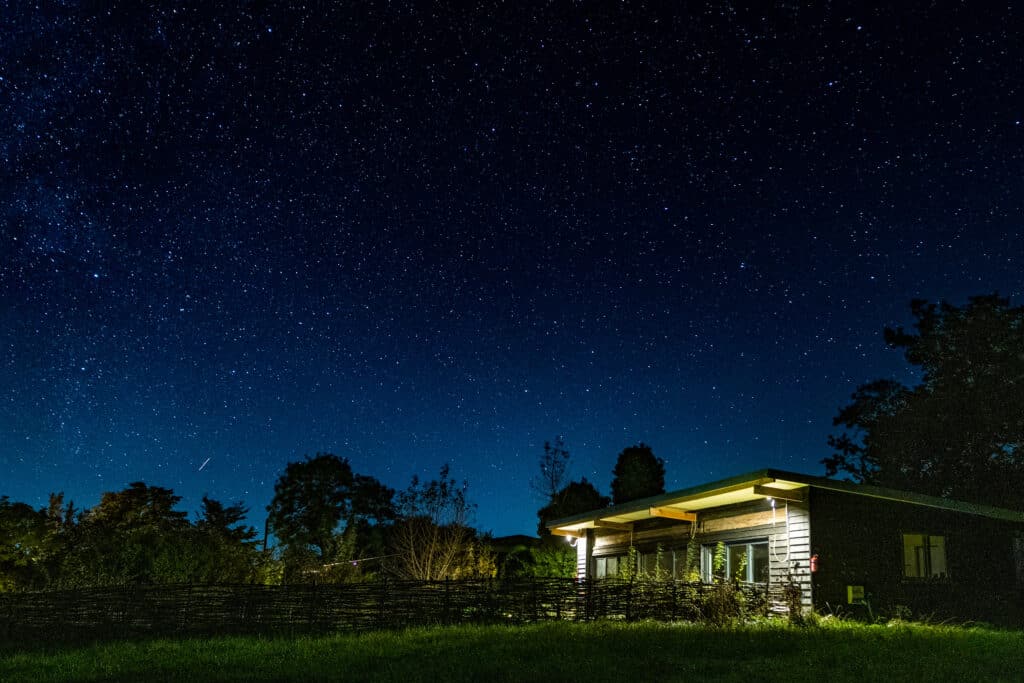 For group activities, the Wakelyns Farmhouse has several options: the kitchen and conservatory are a lovely meeting/social space; then also the dining room, for round a table; and two sitting rooms for a more relaxed environment.
Our office/training building offers fully warm and indoor space which can be set up with a 'board table' for 20 people, or reconfigured as you wish including using its conservatory as a meeting/craft space for up to about 30 people; full projection/sound AV is available.
The old "Cow Shed" (newly refurbished!) is a great space for your group to relax or, for groups smaller then about 12, a great place to hold your meetings and discussions.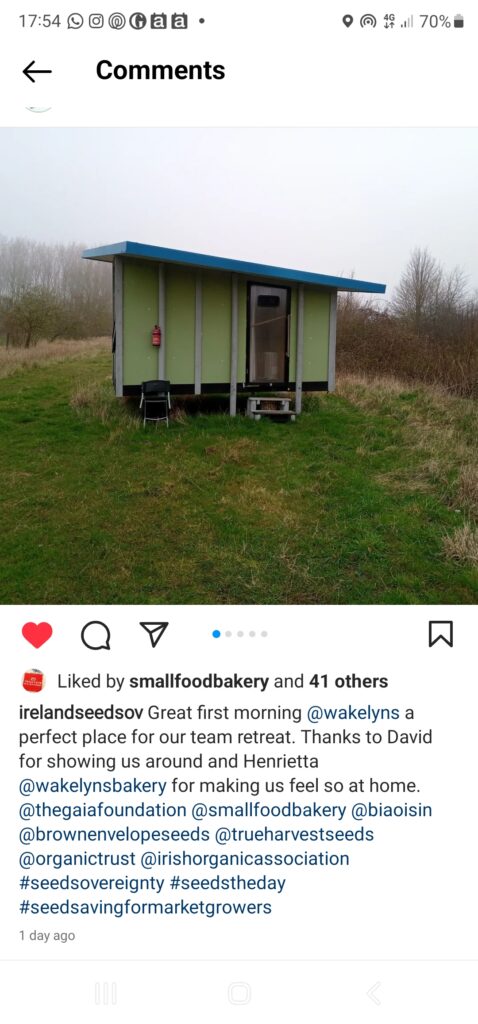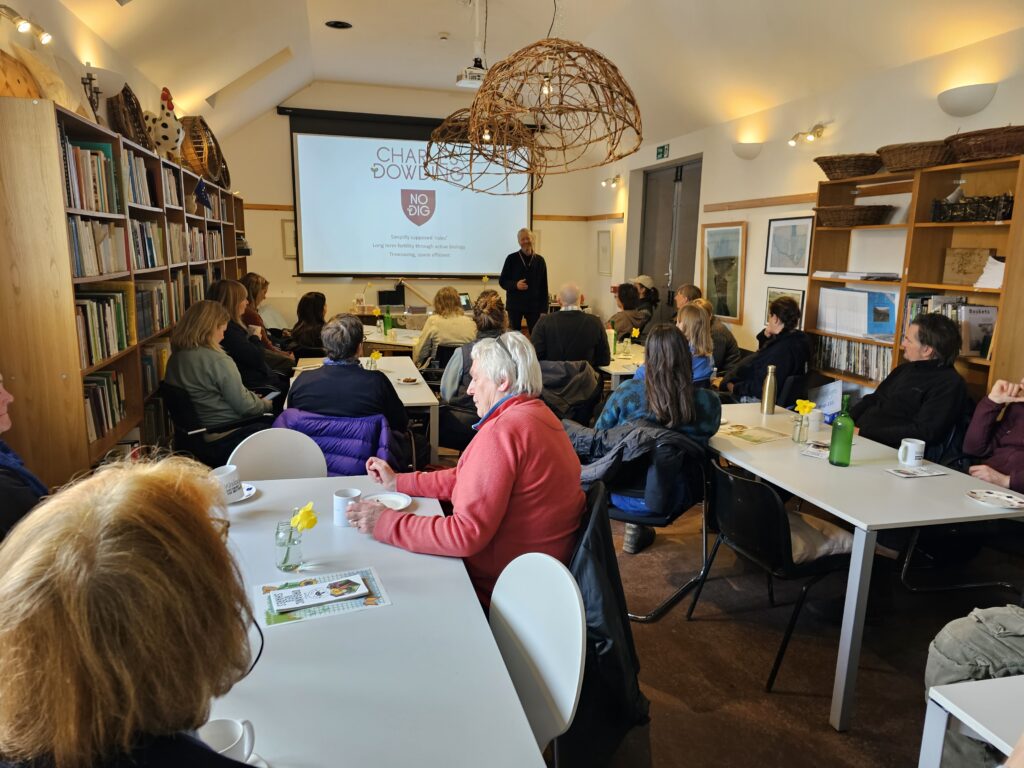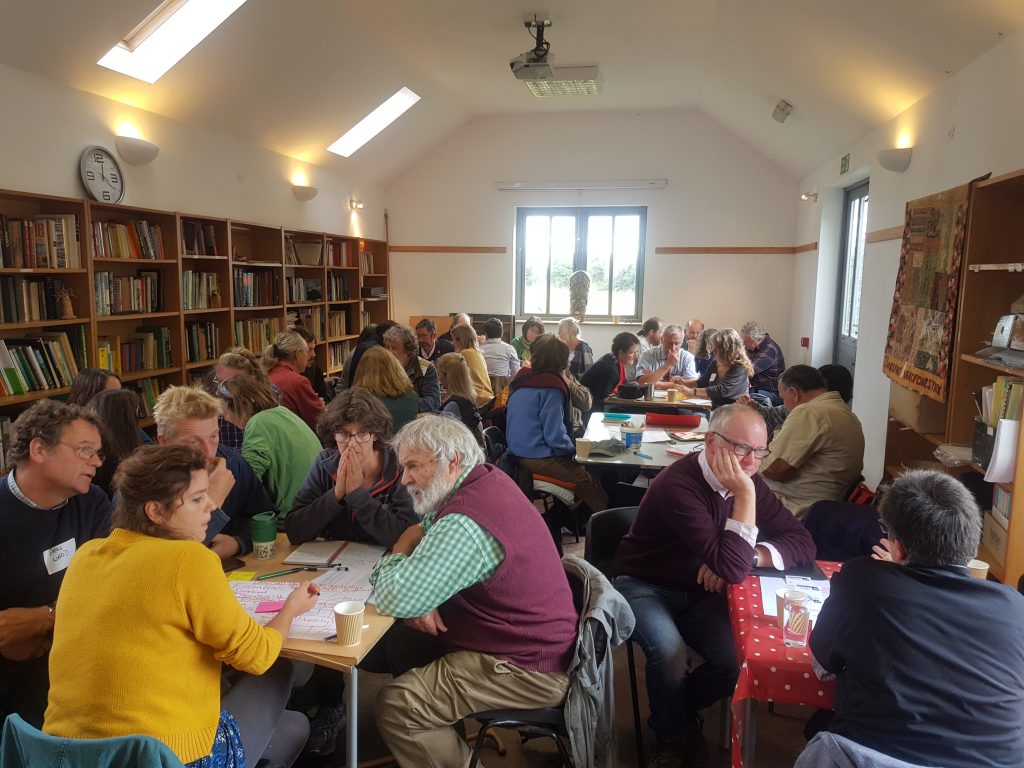 Our old barn is also a great space if you want indoors but it does not need to be winter warm – again, full projection/sound AV is available.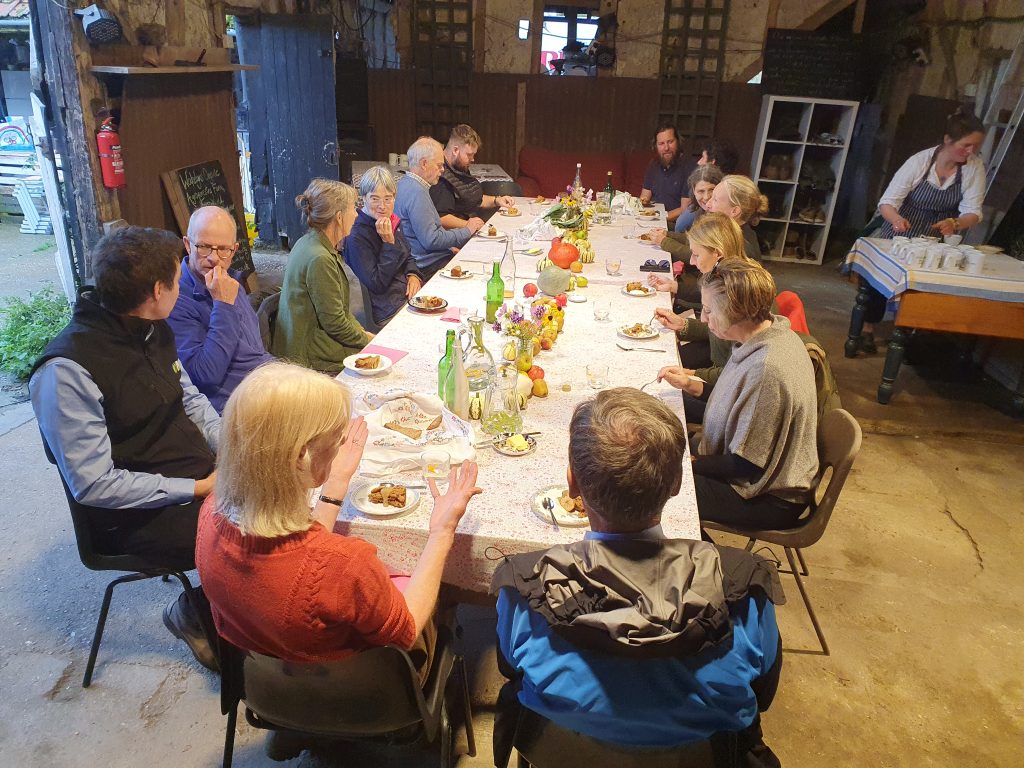 When the weather is good, we have a range of options around the farmyard, some under cover, so you can break up and do different things. Have a look at the photos below to get a better idea of the combinations.
To keep you busy, we can offer farm tours or self-guided walks around our 56 acres of organic agroforestry (probably the oldest and most diverse agroforestry you will see anywhere; or ask about baking/cookery sessions with Henrietta from the Wakelyns Bakery. We can also potentially pull in some our external team and offer tree walks, bird walks, willow weaving, lantern making, mead making, and more. Or course, from spring to autumn you can spend time with Rachel, Holly and Chloe from RealVeg CSA in their no-dig horticulture; and from about mid-June to October, it can be great fun joining in with some harvesting (cherries, then plums, then apples/pears/quinces and more). If you have special requests for other combinations of things we'll do our best to help.
"Quick note to say a huge thanks for having us and for all of the delicious food. Everything was totally perfect and it really is a lovely place to be. … It is perfect for retreats and I am sure we will be back if you'll have us!" (Martha and her 8 colleagues came to Wakelyns for their NGO retreat)
Getting to Wakelyns
Diss station is 90 minutes direct from London Liverpool Street (cheap trains from London start at 9.30am), with taxis available to book from the station; or we have an arrangement with one of the local firms through whom we can help you book cars or minibuses for your transfers.
Food!
There are many options for food. Of course, you can be entirely self-catering, using the house kitchen and the 'summer kitchen' area in our farmyard, which can be readily set up for communal food preparation/cooking/eating, BBQs and so on.
Or order from Henrietta at the Wakelyns Bakery – they can provide as many of your meals as you wish or give some gentle tuition and oversight for some of your own food preparation; or any combination you want.
If you prefer to 'eat out' we can let you have suggestions for pubs etc in the area. But, be aware, for the best and most popular, booking ahead is essential, particularly at weekends and in holiday periods.