We can never have too many bird boxes at Wakelyns!

If you want to make a contribution to Wakelyns, or just help our birds, then the way to do it is to sponsor one of these lovely bird boxes, which we will put up for you on one of the Wakelyns trees.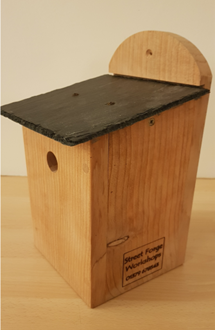 The folk at Street Forge Workshops make these wonderful bird boxes.
Street Forge Workshops project was initiated in Thornham Magna in 1986 by a group of people who were themselves disabled, and who were determined to overcome the lack of training and employment opportunities in Suffolk. It is therefore ideally structured to understand the needs, fears, aspirations and ambitions of people with disability. The Workshops provide individually designed programmes for adults with learning, physical and/or sensory disability in an atmosphere which is supportive, work-like and friendly.
Make a donation (minimum £20) and we'll put the bird boxes up in the agroforestry tree lines. Then a little bit of you or your loved one will be here to help give the birds a lovely home! We'll send you a message of the agroforestry tree line number, and the exact location of your box, then next time you come back you can check on progress!