It's great that Suffolk Wildlife Trust and the RSPB have taken an interest in what's going on at Wakelyns including doing bird surveys. And we are particularly excited by our annual turtle dove community (from May to September). It's also a particular pleasure to welcome Suffolk expert Steve Piortrowski to lead bird walks at Wakelyns.
---
Bird-watching is one of the most relaxing pastimes available to those who enjoy the countryside around them. Suffolk's diversity of habitats makes it one of UK's best counties for birds, but to get the most from your fieldwork you will need a certain element of skill.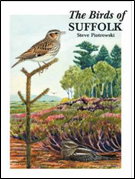 Steve Piotrowski is the author of The Birds of Suffolk (Piotrowski 2003). He specialises in bird migration and holds a BTO bird-ringing 'Trainer' permit. He works as an associate tutor for British Trust for Ornithology and runs Bird ID courses all over the UK. Steve organises and leads birding tours throughout Europe and beyond.
---
The Wakelyns Bird Walks are designed for absolute beginners to more experienced bird watchers with a focus on garden and woodland birds. Even those that struggle to confidently separate Blue Tits from Great Tits will get much from this course.
We will explore Wakelyns' unique agri-forestry areas to highlight identification techniques that highlight bird's behaviour, shape, plumage, songs and calls, the key to enhancing learning experiences.
The course will involve a series of complementary activities to ensure you become familiar with the identification and behaviour of birds which are seen. These will include:
Watching birds from a distance in the various habitats
Viewing birds around Wakelyns
Learning the art of Field-craft
Learning key visual clues to help you identify species by sight
Learning key songs and calls to help you identify species by sound
We will divide our time between watching and listening to birds out in the field and working indoors reviewing and revising what we have learned. We will seek out as many species as possible to view in 'real time'.
---
Following great bird walks in April and May we will shortly be setting dates for more events later in 2021. Make sure you are on our contact mailing list to get updates.
Each day will start at 8.00 am, to get the best of the birds, with a lunch break – lunch from Henrietta Inman at the Wakelyns Bakery included. £50 per person, or £25 for people on low incomes. Morning coffee and lunch included.
Book your Wakelyns event
Mead Making
on 17 July 2021 (10:00 am - 3:00 pm)
Community Butterfly Day 2021
on 31 July 2021 (10:00 am - 3:00 pm)
Field to Loaf
on 14 August 2021 (9:00 am - 4:00 pm)