Helen Holmes is an organic cereal grower and long-standing friend of Wakelyns.

Henrietta runs the Wakelyns Bakery.

We are delighted that they are teaming up to bring this special one-day harvest-time "Field to Loaf" event to Wakelyns.
'Field to Loaf' from Helen & Henrietta – Saturday 14 August
Our 'Field to Loaf' course will start at 9am and finish with light dinner, optional, in the evening around 6pm, with lunch and refreshments from the Wakelyns Bakery included. We'll use traditional techniques to harvest and prepare the grain, before milling it to make fresh wholegrain sourdough bread and flat breads in the Wakelyns Bakery wood-fired oven.
---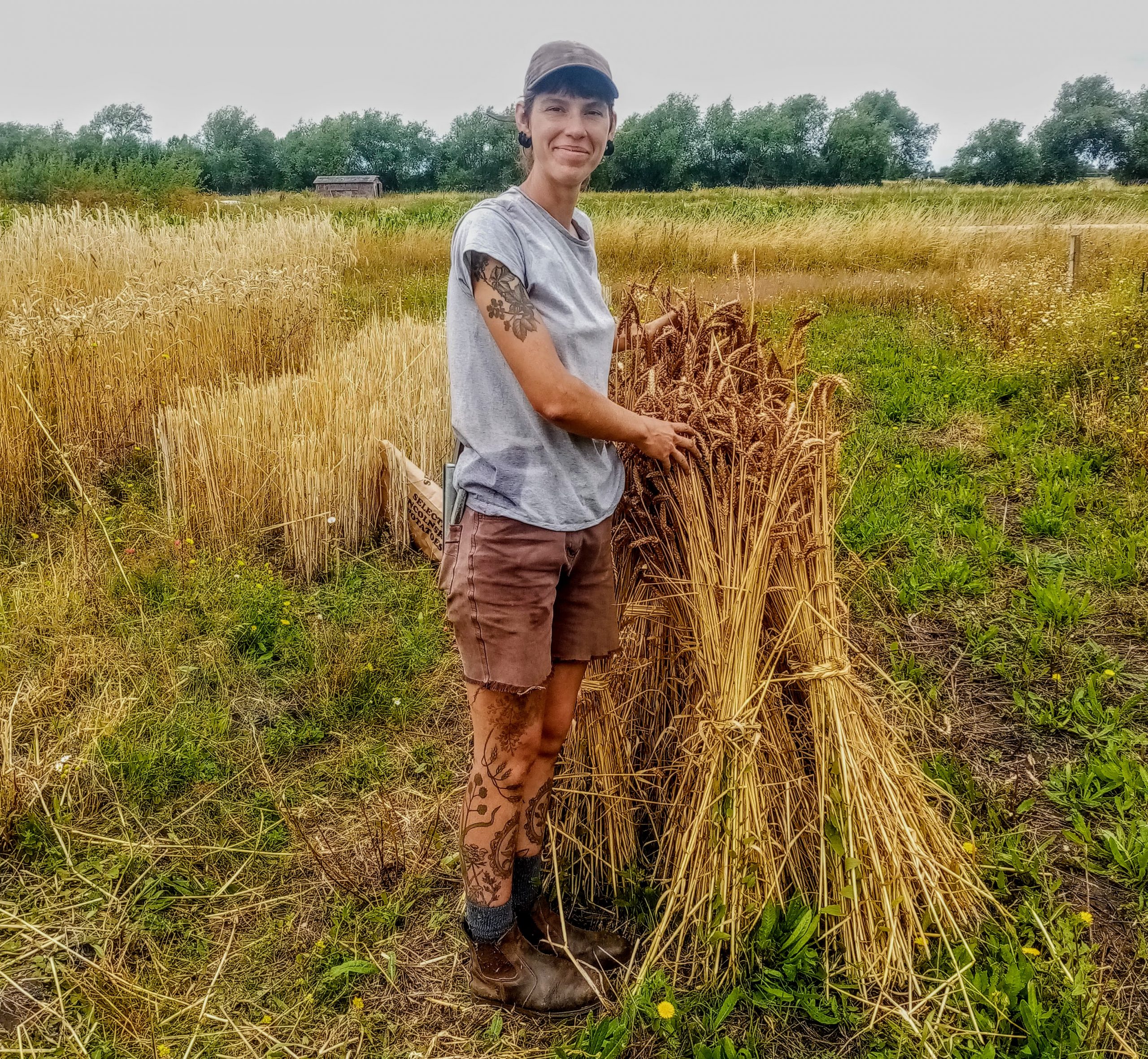 In this workshop we will start in the Wakelyns Bakery, mixing and fermenting YQ population wheat sourdough bread dough with Wakelyns resident baker and cook, Henrietta Inman, from grain that cereal grower, Helen Holmes, has harvested the week before at Wakelyns. We'll then move onto a tour of the Wakelyns alleyways with Henrietta and Helen (seen here, but not at Wakelyns!) outlining how diverse grains such as populations, ancient varieties and everything from ryes to spelts can be grown even on a small scale for home consumption.
---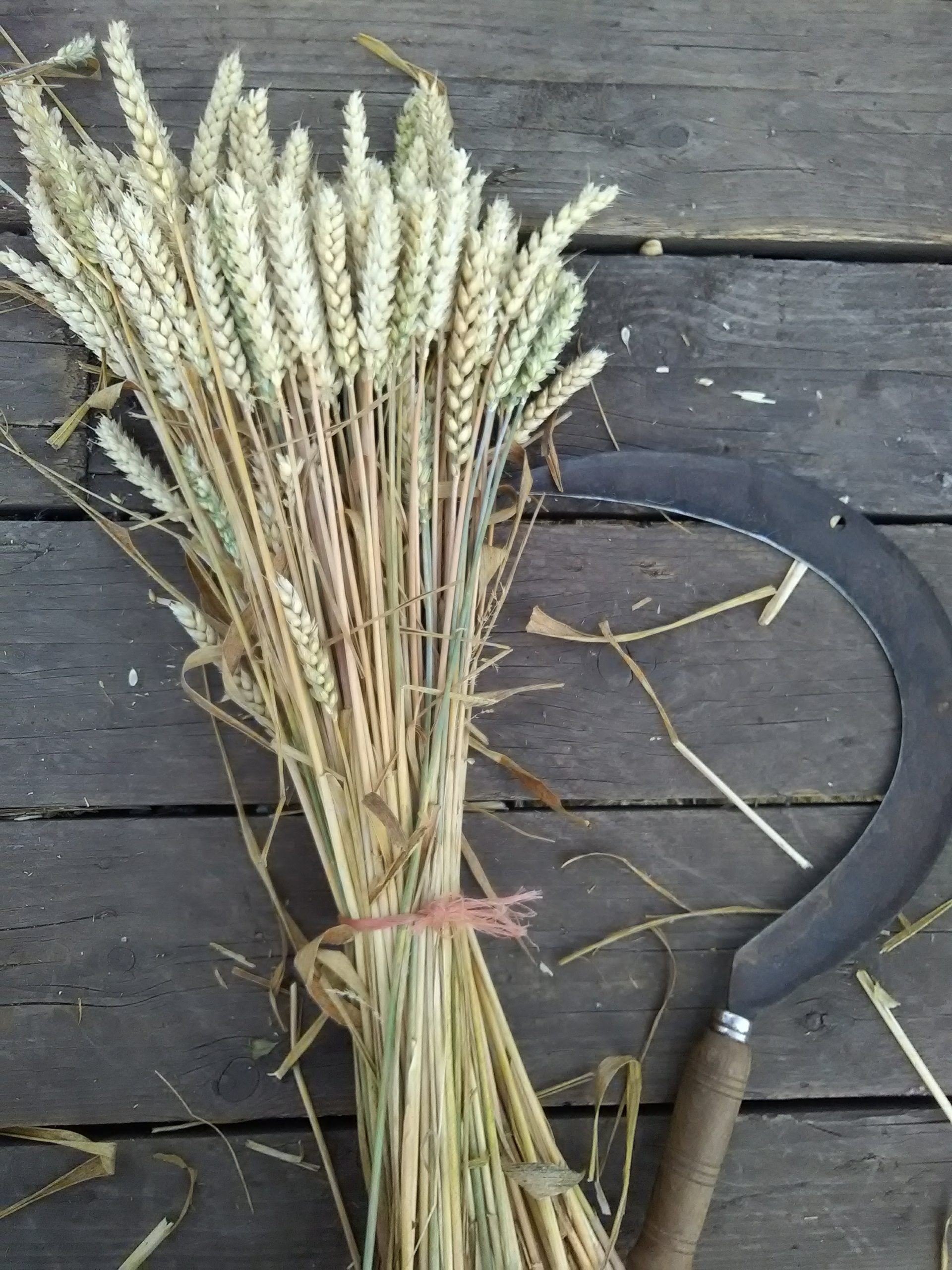 We will then traditionally harvest by sickle YQ and Q wheat, tying into neat sheaves. Then we'll head back to the bakery to shape our dough mixed in the morning and have some lunch made with produce from Wakelyns and nearby farms. Henrietta will fire up the oven and explain a bit more about it.
---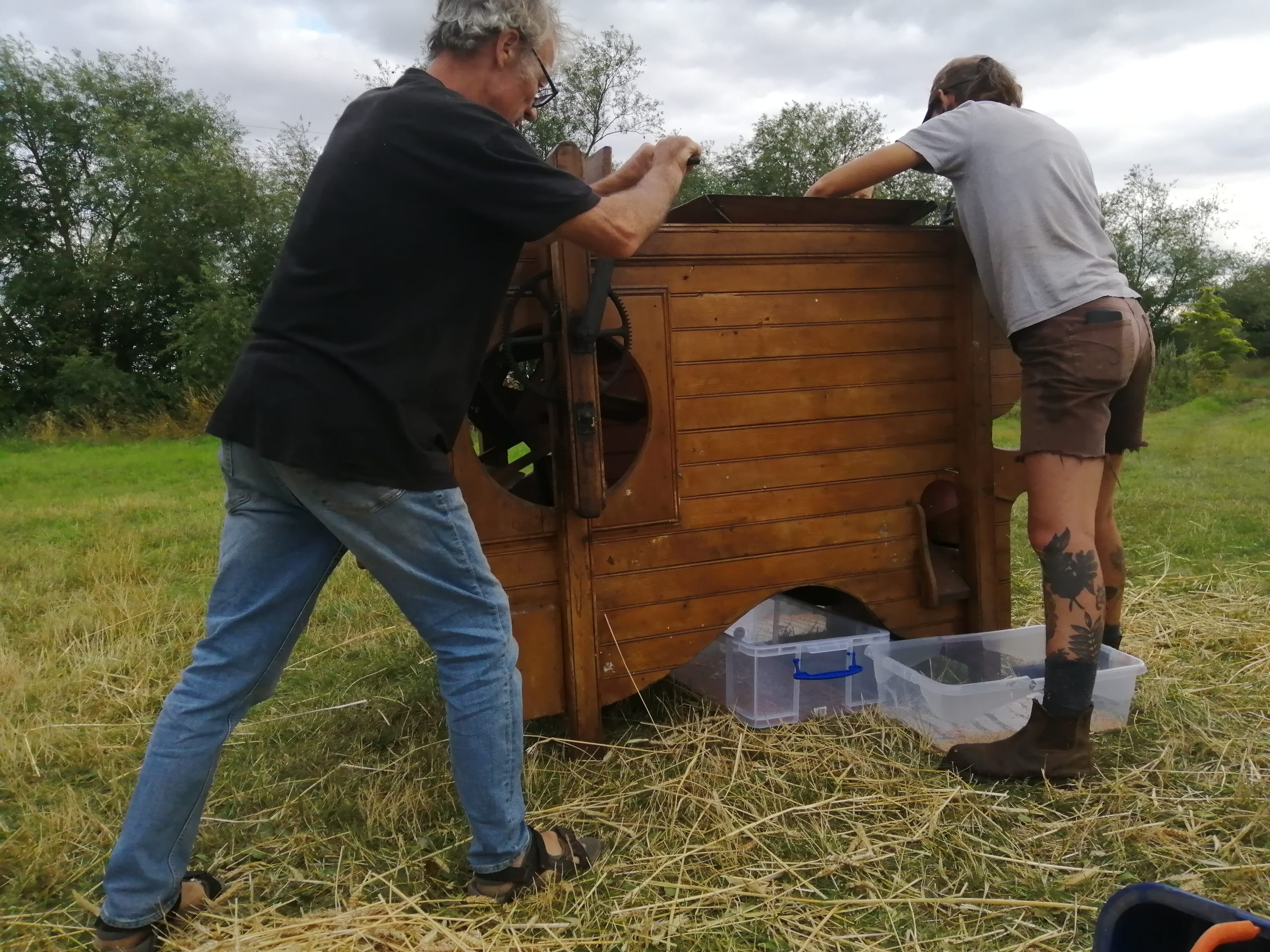 After lunch we will thresh with a pedal powered grain bike to loosen the grain from the chaff and then winnow in a 1912 made hand-cranked machine to blow the chaff away from the precious grains.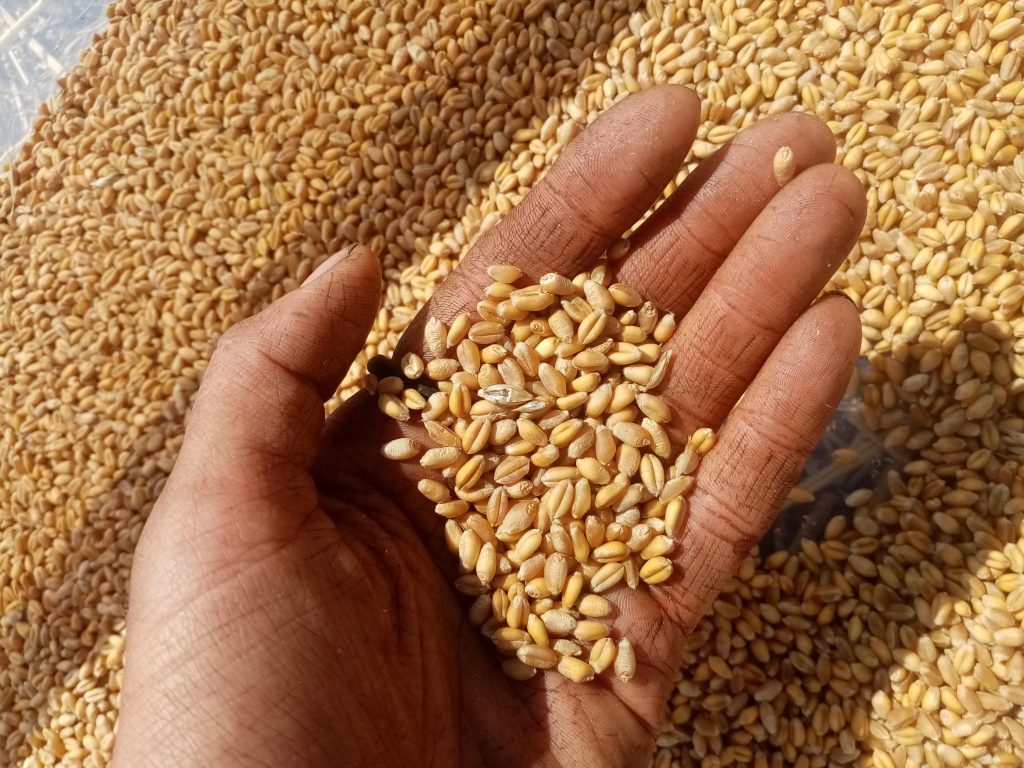 ---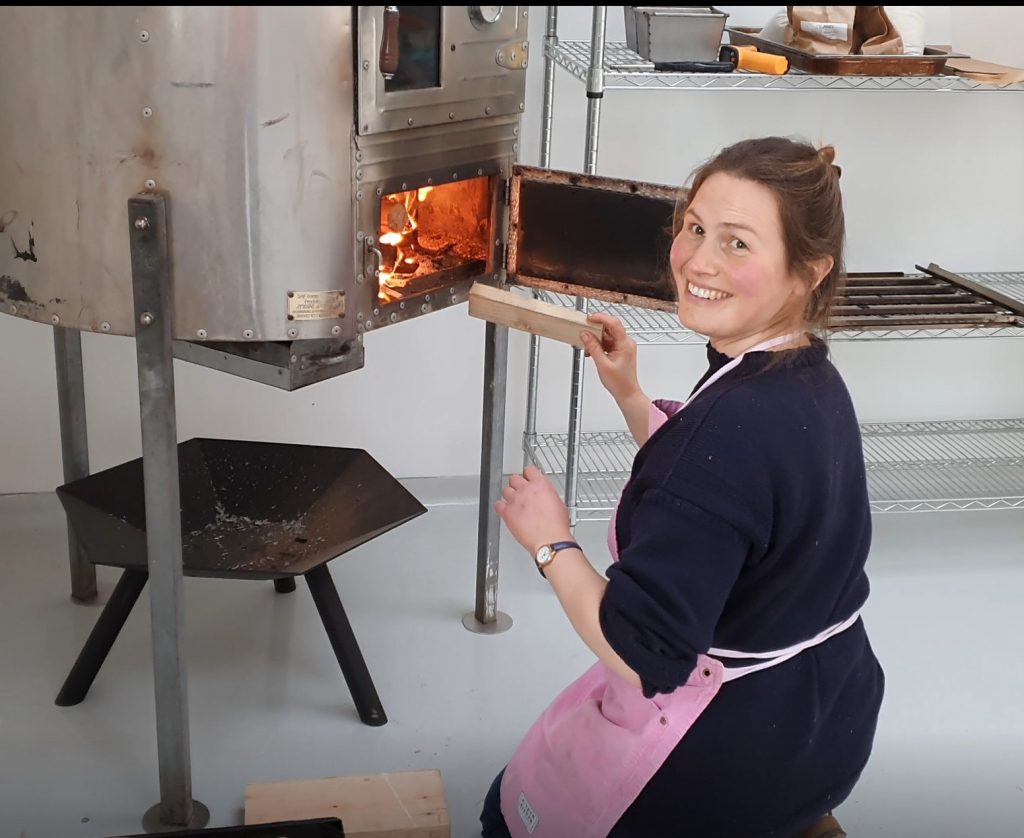 After we've freshly stone milled the grains, we will learn more about baking with wholegrain flours with Henrietta. We'll understand the goodness and nutrition contained in the bran and germ, which are stripped from the grain to produce starchy white flour made from the central endosperm. We'll also learn about the process of sourdough, the numerous benefits such as flavour and health, and each guest will take home some sourdough starter and a guide to maintaining it, as well as your wood-fired loaf of bread. Whilst the oven cools after baking our loaves, we will make some parathas, a delicious filled Indian flatbread, using the freshly milled grains, and have a light supper. If you need to leave before that is not a problem.
---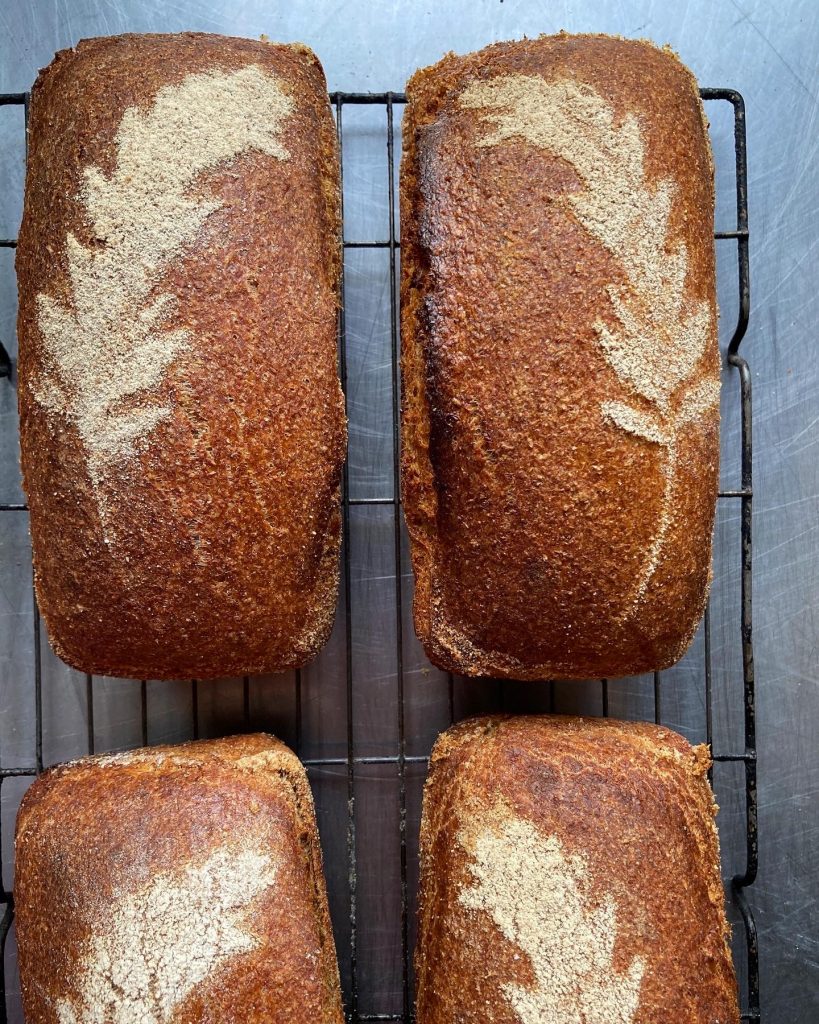 From sowing, looking after and harvesting your grains, preparing the starter to mixing, shaping and baking the loaves, after the class you'll feel equipped with the information you need to continue growing grains and baking at home. We'll also discuss the importance, joy and deliciousness of using local grown grain from a local grain network and our role as farmers, bakers and bread consumers in the transition to a regenerative farming future, supporting agroecological farms, soil health and human health.
---
We're looking forward to sharing a communal day of learning, harvesting and baking!
Book your event
Mead Making
on 17 July 2021 (10:00 am - 3:00 pm)
Community Butterfly Day 2021
on 31 July 2021 (10:00 am - 3:00 pm)
Field to Loaf
on 14 August 2021 (9:00 am - 4:00 pm)