28 November 2021
10:00 am - 4:00 pm
Rag rugs are a great way to use up old textiles into something beautiful and useful for your home. Come and enjoy a relaxed and cozy day on the farm making traditional 'proddy' style rag rugs (strips of fabric poked and knotted through a base fabric, in our case hessian).
There will be plenty of good company, tea and cake as well as a two course homemade lunch from the wonderful Wakelyns Bakery.
We will hopefully have lots of material from our Swishing Party held two weeks earlier but please feel free to bring any fabric or rags that you want to include in your rug. Rag rugs eat up a suprising amount, so don't worry about bringing too much! Cotton jersey and wool work best, try to stay away from items that shed or unravel easily like polyester scarves. If you're unsure, bring it anyway and we'll have a look on the day.
All materials, lunch and refreshments included.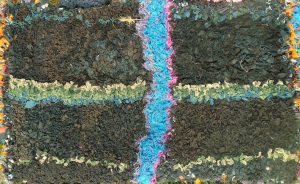 Bookings
Bookings are closed for this event.