4 September 2021
9:00 am - 6:00 pm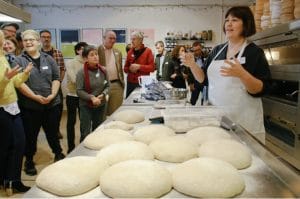 The People's Loaf – A sourdough bread workshop – led by Kimberley Bell, founder of Small Food Bakery, with Henrietta Inman, founder of Wakelyns Bakery
At Wakelyns, many years ago, began an evolutionary wheat breeding project. The aim was to build a wheat crop that was resilient, dependable, future proof. 20 years later, this wheat, now named YQ Wakelyns population has inspired a community of farmers, millers and bakers all over the UK (and beyond) to set about building localised food systems that are similarly resilient. What began as an experiment to create a new kind of wheat has evolved into a social movement towards food sovereignty and a new kind of bread.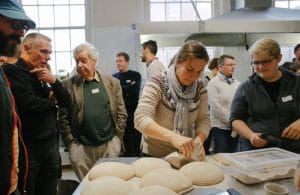 This one day workshop will guide you through the process of making a sourdough sandwich loaf using YQ Wakelyns population grown here at its place of conception. We will learn everything about the loaf from the seeds, to the milling of the flour, to mixing dough, understanding the science of wheat doughs and sourdough leavening and bake the loaves in a wood oven.
Lead by Kimberley Bell (Small Food Bakery) and Henrietta Inman (Wakelyns Bakery), we will also tell our very personal stories of what the YQ wheat means to us as bakers, and how it has lead us on a journey to build very unusual bakeries.
What  is included:
refreshments throughout the day from elevenses to lunch to tea and cake
formulas and guidance to take home to carry on baking your People's Loaf
a wholegrain YQ tin loaf
Bookings