Join our bread subscription!
Sign up to our subscription to recieve our 100% wholegrain real bread every week.
Please note that we are not open to the public. Instead, sign up to our bread subscription to buy our bread or contact us if you want to learn more and arrange a visit.
You can pick up your bread from us at our pick up points from 9am. We'll keep your bread out until you've picked it up.
Wakelyns Bakery, Wakelyns, Metfield Lane, Fressingfield IP21 5SD (Thursdays and Fridays) – if you cannot pick up on Friday, we are here most Saturdays and can leave your bread out for you to pick up then. It will still be fresh and delicious!
The Croft, Southwold Road, Blyford, Halesworth, IP19 9JU (Thursdays only)
We also sell our bread at
Leo's Deli, 17 Market Hill, Framlingham, Woodbridge IP13 9AN (Wednesdays)
Metfield Village Shop, The Street, Metfield, Harleston, IP20 0LB (Thursdays)
Emmett's Store-Shop, Cafe and Smokehouse, The Street, Peasenhall, IP17 2HJ (Thursdays)
Reckford Roost Farm Shop, Reckford Farm, The Roost, Saxmundham, IP17 3NS (Thursdays)
Ma Belle Bakery, 13 Market Place, Bungay, NR35 1AP (Thursdays)
Focus Organic, 14 Thoroughfare, Halesworth, IP19 8AH (Thursdays)
Bonitas Wholefoods, 2 Tavern Street, Stowmarket, IP14 1PL (Thursdays)
Fressingfield General Stores, New Street, Fressingfield, Eye, IP21 5PJ (Fridays)
The Green Cupboard, 18 The Thoroughfare, Harleston, IP21 9AS (Fridays)
The Bodhi Tree, 9 The Traverse, Bury St Edmunds, IP33 1BJ (Fridays)
The Wholefood Store, 26 High Street, Manningtree, CO11 1AJ (Fridays)
New Street Market and The Canteen, 70 New Street, Woodbridge, IP12 1DX (Fridays)
Vida Haus Cafe, The Three Tuns, Pettistree, IP13 0HM, (Fridays)
We are happy to let you know that if you live further afield, you can now find our bread on Hodmedod's online.
If you'd like to subscribe and pick up your bread from the shops above this is also possible. Or you can contact the shops and they will set aside a loaf for you.
SUBSCRIBE NOW
Large Wholegrain YQ Tin Loaf. Our favourite loaf made with the organic YQ population wheat, grown and milled fresh on the farm for maximum flavour and nutrition. Wonderful for toast, sandwiches and everything! Some of our favourite combinations are with Fen Farm Dairy butter and jam; local cheese and smoked fish. Keeps very well for a week. £18 a month (£4/week). 800g. Half loaf £9 a month (£2/week). 400g. Contains gluten.
Large Wholegrain Q Hearth Loaf. Baked directly onto the hearth, floor, of our wood-fired oven, our free-form, round hearth loaf is made with the organic Q population wheat, proofed in baskets. We are working on some baskets made by Adam and Emma using willow from the farm. £18 a month (£4/week). 800g. Half loaf £9 a month (£2/week). 400g. Contains gluten.
SUBSCRIBE NOW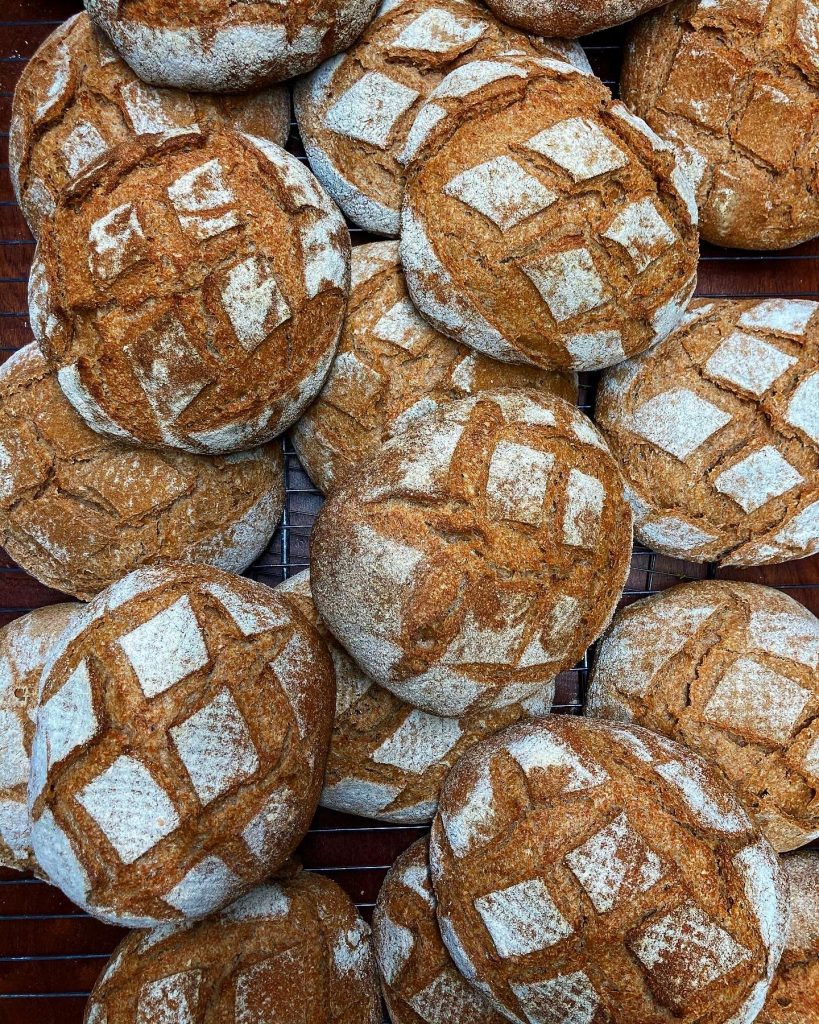 What is a subscription?
We use a subscription model to sell our bread so you can pay in advance, guaranteeing you flavourful and nourishing bread every week, a little bit like a vegetable box scheme.
Why a subscription?
You can be part of our bread club, help our business grow and invest in a fairer, stronger, food and land use system. IT'S DELICIOUS AND IT'S FUN!
We believe that real bread, like all real food, should be available to everyone. We hope that a subscription model puts the power back into your hands – you can factor it into your weekly food shop, ensuring you are feeding yourself well, whilst maintaining the health of our biosphere
Through subscribing, you are food secure, committing to healthy, wholegrain, organic bread with no additives, just flour, water and salt. YUM!
To ensure no waste and that we are using our resources – wood, solar power, human power, food and agriculture – as efficiently as possible
You become part of a small, resilient and local grain and food network which values human physical and mental health and happiness, builds community and gives back to the local economy
You are buying a share of the harvest, getting to know Wakelyns, the soil, the grains and us; how we bake, our craft and our ingredients. We see you as friends, humans and eaters, not consumers and hope that you value knowing #WhoBakedYourBread.
We believe in a circular and solidarity economy that reconnects producers and eaters to provide innovative solutions for living within our planetary boundaries while ensuring the social foundation for inclusive and sustainable development. This is part of the 10 Elements of Agroecology which you can read more about here.
SUBSCRIBE NOW
Learn more about the Real Bread Campaign.