Join our bread subscription!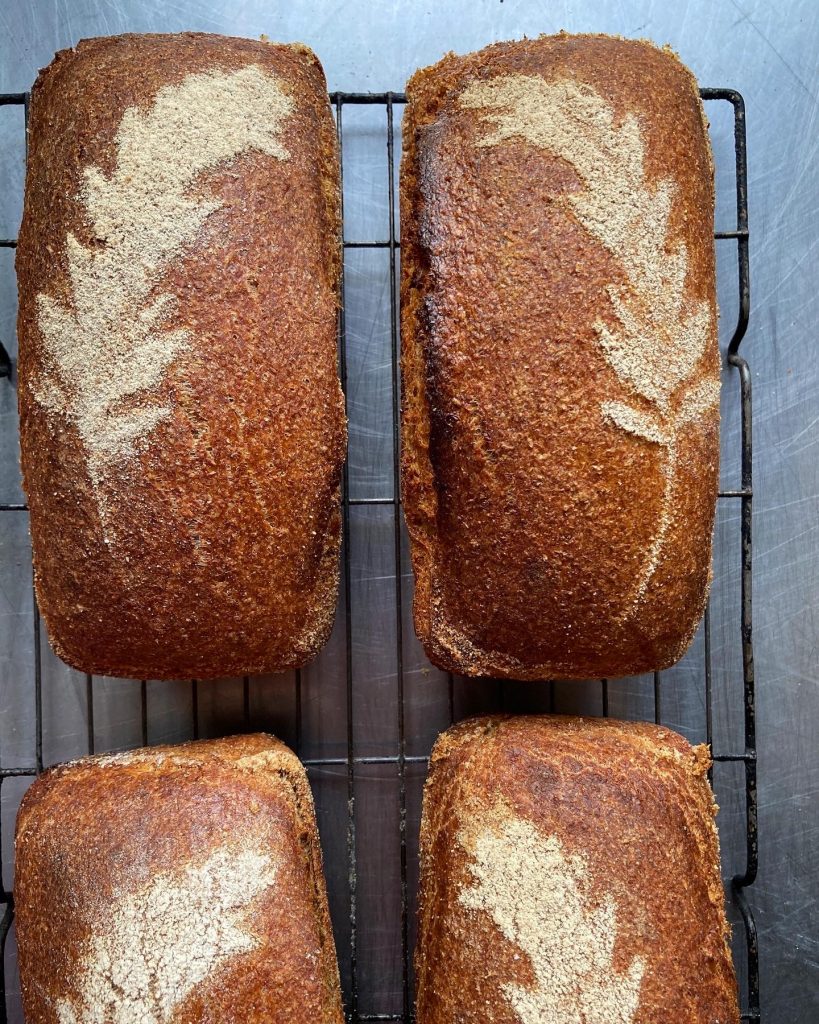 Our subscriptions start from Thursday 15th April 2021 and you can join and subscribe anytime. After four weeks you can renew your subscription or start a new one.
Pick up points
Wakelyns Bakery, Wakelyns, Metfield Lane, Fressingfield, Eye, Suffolk, IP19 5SD. Pick up between 9am – 11am
The Croft, Southwold Road, Blyford, Halesworth, Suffolk IP19 9JU. Pick up available from 9am.
Street Farm, Great Glemham, Saxmundham, Suffolk, IP17 2DH. Pick up from 9am.
---
---
Large Wholegrain YQ Tin Loaf. Our favourite loaf made with the organic YQ population wheat, grown and milled fresh on the farm for maximum flavour and nutrition. Wonderful for toast, sandwiches and everything! Some of our favourite combinations are with Fen Farm Dairy butter and jam; local cheese and smoked fish. Keeps very well for a week. £16 for 4 weeks (£4/week). 800g. Contains gluten.
Large Wholegrain Q Hearth Loaf. A little like our wholegrain YQ but made with the farm's organic Q flour and free-form, proved in willow baskets made locally by Emma and Adam, baked directly onto the hearth, or brick floor, of our wood oven. For really good bacon sandwiches, lots of mopping up sauces and juices left on your plate, toast and more! £16 for 4 weeks (£4/week). 800g. Contains gluten.
Taster pack! If you haven't tried our bread before, this is a delicious diverse little mix of three baked delights that we will change a little every week so you can get to know what we do and what you like. Every week you will get half a YQ Tin Loaf or Q Hearth Loaf with a third of a Surprise Loaf and two portions of a little something sweet or savoury like cherry, fig leaf and YQ buckwheat pastry tarts or sourdough cheese and many seeds scones. £26 for 4 weeks (£6.50/week). Contains gluten; possibly dairy, eggs, nuts.
It's a Surprise Loaf! We love experimenting with other local growers and their grains and produce as well as putting other crops from the rotations in our doughs and fruits and nuts from the alleys. Perhaps you will get a Q tin fruit loaf with three different types of plums, Mirabelle, Victoria and Damson, from 2020 grain and fruit harvest; or a YQ, rye and walnut loaf with rye from Helen Holmes and walnuts from North Field. Whatever it is, we promise it's going to be very yummy! £22 for 4 weeks (£5.50/week). 800g – 900g. Contains gluten; possibly nuts, seeds, dairy.
Something sweet, a cake, tart, biscuits from Wakelyns… to change each week. A beautiful packet of homemade biscuits; buckwheat and Pump Street Chocolate brownies; a sponge cake full of jam with fruits from the farm or a YQ, walnut and honey tart, every week will bring a new sweet adventure. Each packet of biscuits, brownies, tart or cake will be four portions and keep well for five days. £48 for 4 weeks (£12/week). Contains gluten, dairy, eggs.
Wakelyns preserve such as jam, chutney, pickle or sauce. We make preserves throughout the year from June when the cherries arrive until November with the last of the apples. Each week you will receive something different, such as cherry and fig leaf jam; plum, apple and quince chutney; brown sauce made with plums or ketchup with rosehips… there will be many delights! £24 for 4 weeks (£6/week with 40p deposit per jam jar). 430g.
---
---
What is a subscription?
We use a subscription model to sell our bread so you can pay in advance, guaranteeing that you get four weeks' worth of flavourful and nourishing bread, one loaf a week, a little bit like a vegetable box scheme.
Why a subscription?
You can be part of our bread club, help our business grow and invest in a fairer, stronger, food and land use system. IT'S DELICIOUS AND IT'S FUN!
We believe that real bread, like all real food, should be available to everyone. We hope that a subscription model puts the power back into your hands – you can factor it into your weekly and monthly food shop, ensuring you are feeding yourself well, whilst maintaining the health of our biosphere
Through subscribing, you are food secure, committing to four weeks of healthy, wholegrain, organic bread with no additives, just flour, water and salt. YUM!
To ensure no waste and that we are using our resources – wood, solar power, human power, food and agriculture – as efficiently as possible
You become part of a small, resilient and local grain and food network which values human physical and mental health and happiness, builds community and gives back to the local economy
You are buying a share of the harvest, getting to know Wakelyns, the soil, the grains and us; how we bake, our craft and our ingredients. We see you as friends, humans and eaters, not consumers and hope that you value knowing #WhoBakedYourBread.
We believe in a circular and solidarity economy that reconnects producers and eaters to provide innovative solutions for living within our planetary boundaries while ensuring the social foundation for inclusive and sustainable development. This is part of the 10 Elements of Agroecology which you can read more about here.
---
---
Learn more about the Real Bread Campaign.