We are a 100% wholegrain bakery. But what exactly is 'wholegrain bread' or 'whole grains,' and why are we so committed to stone-milled wholegrain flour in our bread?
Every year at harvest time at Wakelyns, Paul and Mark our farmers and food producers, do two things with the wheat grains that they harvest – it is cleaned, threshed and milled into wholegrain flour to use in the bread in our bakery, and the rest of the seeds are saved and planted for the following year's crop. The 'YQ' and 'Q' at Wakelyns have now been through over eleven generations of natural field selection, each year the plants within them which are better adapted to the climate, soil and landscape here, reproducing. This results in our own local population, or 'landrace'. Find out more about this here on the YQ and Q Population Wheats page of the Wakelyns website.
Here are some photos illustrating the whole process from sowing the seeds, the first grasses springing to life to the more fully grown plants in the field, harvesting, grains before cleaning, milling, flour and bread, then it all happens again. With this constant renewable cycle of the seeds and the bread, involving the birth, reproduction and death of the organisms, notably yeast and bacteria in our bread, within it, the symbolic significance of bread is not hard to understand. Bread really is life.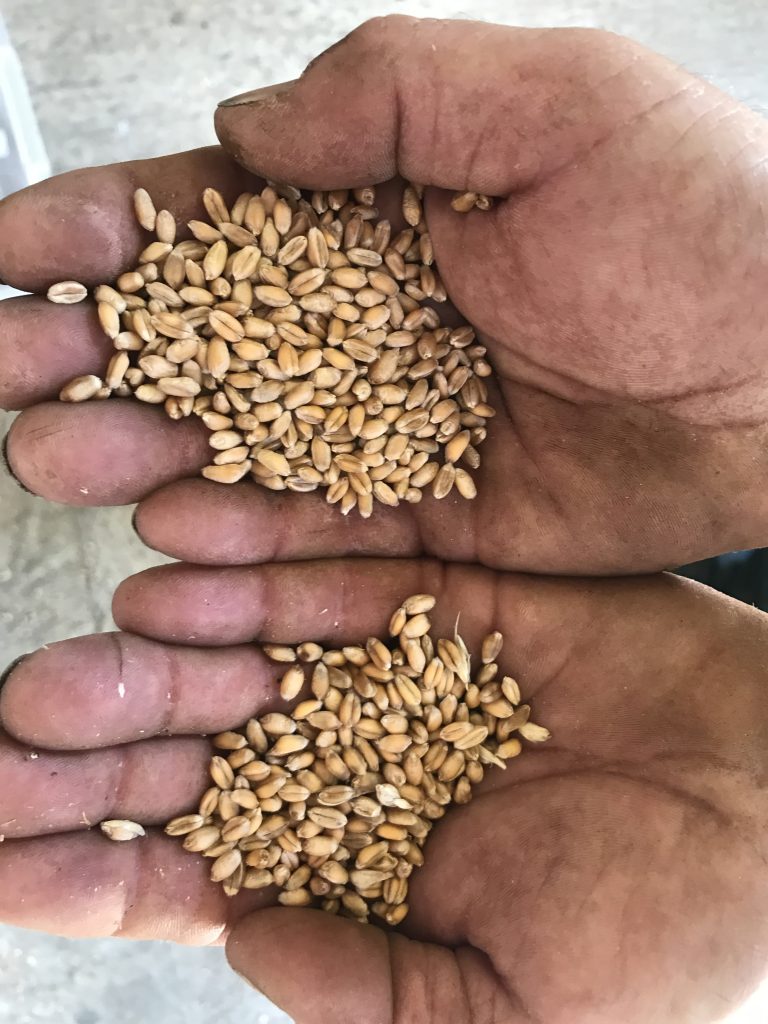 Now we have our loaf of bread containing just three ingredients – wholegrain flour, water and salt. It sounds so simple, and that really is one of the many beauties of bread, but what these whole grains bring to the bread synergistically with the mixing, proofing, fermenting and baking process, is much more than meets the eye.
Here we have our WHOLE GRAIN. It is made up of the bran (the roughage outer husk), the main source of fibre; the germ, containing fats and micronutrients; and the endosperm, the starch and protein centre. After gliadin and glutenins, two types of protein found in the endosperm, the bran and germ combined contain –
globulins and albumens, two other sources of protein; micronutrients; vitamins; phenolic compounds antioxidants; lipids; phytic acid and fibre. This adds up to 80% of the grains nutrition with only 20% in the endosperm.
In the production of white flour, the bran and germ are stripped from each grain to produce flour made only from the endosperm. But in our bakery we don't want to lose all that goodness of the whole grain in the bran and germ, not only for its nutritional quality but also its amazing flavour and texture. We believe that it is also part of the grain's identity, with each grain of wheat, barley, rye or any other cereal changing from one farm to the next, one region to the next.
More coming soon. In the meantime, here are some useful links that we recommend if you want to find out more about beautiful whole grains –