Booking links for each event at the bottom of the page
Woad Club – Second or Third Wednesday of the month, June-Sept 1pm-4pm
Explore the wonderful world of woad. Each month we'll investigate a different side of this fascinating dye plant. Collect woad grown on the farm, make a fresh dye vat and then use it to dye different fibres. All materials, homemade cake and refreshments included.
£30 per person, per session or save by booking all 4.
Wednesday 9th June – Naked Woad , blue on its own
Wednesday 14th July – Woad and Weld, exploring making greens
Wednesday 11th August – Woad and Willow, making purples
Wednesday 15th September – Wham Bam, Dunk and Go! Bring something to dye
Save 20% and book all 4 sessions for £95
---
2 Day Hedgerow Dyeing Workshop – Weds 22nd-Thurs 23rd September, 10am-4pm
*Postponed until Summer 2022*
---
Wild Twines – Farm Fibre Day – Sunday 7th November, 10am-4pm
Exploring plant and animal fibres through time, from the Pleistocene to the Present. Use local and farm foraged materials including nettle, elm, lime, deer and sheep. Learn how to prepare and ply fibres, manually making twine and the getting to grips with one of the most important technological revolutions of the Bronze Age!
A homemade farm lunch, refreshments and all materials are included.
£125 per person

---
Wild Clay Beads and Cordage Workshop – Sunday 24th October, 10am-4pm
Join Clare from Wayside Pottery and Fay, The Woodland Haberdasher, for their first exciting workshop collaboration using materials gathered from the farm.
Learn the rudiments of processing raw earth into a useable material and then use pre-prepared farm clay to make yourself some unique beads. Find out what's on the farm that's good for cordage and ply your own beautiful strings of nettle, elm and lime, making twines ready to hang your beads on.
Beads made on the day will be taken away and fired at Clare's studio and then posted out to participants when ready. Cost includes all materials and light refreshments. All materials and a homemade farm lunch included.
£95 per person
---
Wakelyns Swish – Preloved Clothing Swap Evening – Friday 12th November 6.30pm-8.30pm
A swishing party a great way to update your wardrobe guilt free whilst also helping the planet. By wearing new-to-you items instead of buying brand new from the high street you are reducing your clothing carbon foot-print and saving money. By coming to the Swish you get to give your unworn clothes to a new home and also find yourself some treasures. Tasty treats provided by Wakeleyns Bakery, all refreshments included. Please see event page for how the Swap Party works and what to bring
£12.50 per person
---
Hand Spinning for Beginners – Saturday 13th November, 10am-4pm
An ideal workshop for those looking to have a go at hand spinning or to get more confident with their technique. On the day we will be preparing sheep fleece and using both a drop spindle and a wheel to make yarn. You will have the oppertunity to experience the different qualities of at least two rare breeds – Manx Loaghtan and Hebredian (from a small flock near Bury St Edmunds) and hopefully some local Wensleydale (very long and also rare breed) as well. All materials, refreshments and a two course farm lunch provided.
£100 per person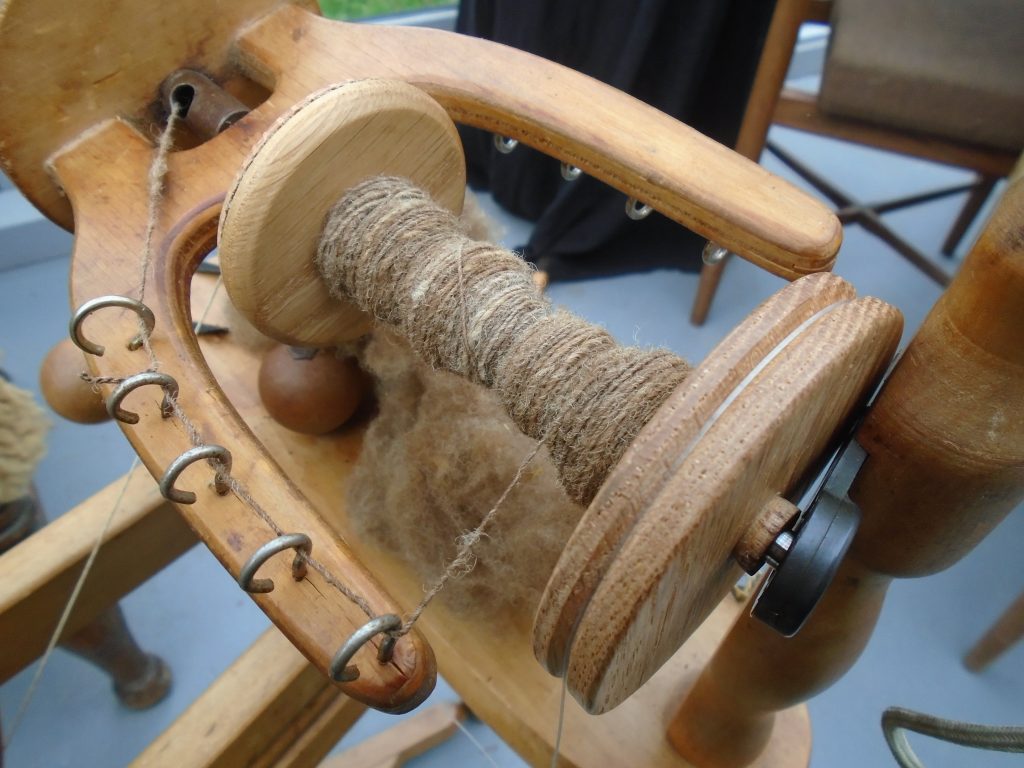 ---
Rag Rug Making Workshop – Sunday 28th November, 10am-4pm
Rag rugs are a great way to make old textiles into something beautiful and useful for your home. Come and enjoy a relaxed and cozy day on the farm making traditional 'proddy' style rag rugs. There will be plenty of good company, tea and cake as well as a two course homemade lunch from the wonderful Wakelyns Bakery. All materials and refreshment included but please feel free to bring your own 'rags' to add into your rug.
£55 per person
---
Teaspoon Club – Last Saturday in the month Oct, Nov Jan, Feb, March, 9.30am-12.30pm
A friendly and relaxed spoon carving session, whether you're a complete beginners, want to improve your skills or simply come and carve with some fire, company and cake. Learn how to safely use basic hand tools. Use wood from the farm and carve your own masterpiece to take home. Refreshments, homemade cake and all materials provided.
£40 per person
Saturday 30th October
Saturday 27th November
---
Click below to book a workshop place –
Wild Clay Beads and Cordage Workshop on 24 October 2021 (10:00 am - 4:00 pm)
Teaspoon Club on 30 October 2021 (9:30 am - 12:30 pm)
Wild Twines – Farm Fibre Day on 7 November 2021 (10:00 am - 4:00 pm)
Wakelyns Swish - Preloved Clothing Swap Evening on 12 November 2021 (6:30 pm - 8:30 pm)
Hand Spinning for Beginners on 13 November 2021 (10:00 am - 4:00 pm)
Teaspoon Club on 27 November 2021 (9:30 am - 12:30 pm)
Rag Rug Making Workshop on 28 November 2021 (10:00 am - 4:00 pm)