24 October 2021
10:00 am - 4:00 pm
Join Wayside Pottery and The Woodland Haberdasher for their first exciting workshop collaboration using materials gathered from the farm.
Learn the rudiments of processing raw earth into a useable material and then use pre-prepared farm clay to make yourself some unique beads.
Find out what's on the farm that's good for cordage and ply your own beautiful strings of nettle, elm and lime, making twines ready to hang your beads on.
Beads made on the day will be taken away and fired at Clare's studio and then posted out to participants when ready. Cost includes all materials, bead firing and posting out after the workshop and of course a fantastic 2 course homemade farm lunch from our onsite bakery.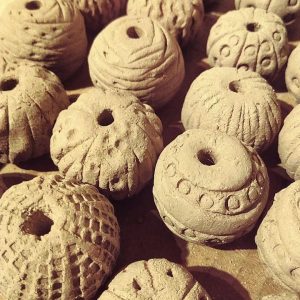 Bookings
Bookings are closed for this event.