12 November 2021
6:30 pm - 8:30 pm
A swishing party a great way to update your wardrobe guilt free whilst also helping the planet.  By wearing new-to-you items instead of buying brand new from the high street you are reducing your clothing carbon foot-print, saving money and encouraging others to do the same.
How does the evening work?
Everyone who gets a ticket will be asked to bring at least 5 clothing items or accessories that are in a gently worn and good condition, suitable for giving away to others. You can of course bring as many things as you'd like, there is no limit! Please only bring clothes, shoes, bags, jewellry and unopened cosmetics (except lightly used perfumes) to the Clothes Swap. Underwear, swim wear and nightwear are not accepted unless they are new with tags.
You are welcome to bring clothes that are suitable only for rags (i.e. holes, rips) as we will gladly recycle them on our rag rug making course later in the month.
When you arrive to the party your contributions will be displayed on racks and tables as a fabulous second hand boutique. You can then relax with a drink and tasty treats from Wakelyns Bakery whilst perusing all the clothes up for grabs.
When the set up is finished, everyone has half an hour to view all the clothes and accessories on offer.
After the half an hour is up, all the items are up for grabs and you can take home the perfect pair or new shoes or a whole bag of new and interesting garments to get experimenting with.
Ticket includes all refreshments.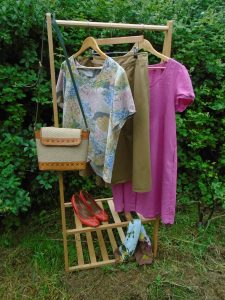 Bookings