16 October 2021
9:00 am - 5:00 pm
The unique and magical quince will finish our series of classes in the bakery to celebrate the fruit grown in the tree alleys of Wakelyns agroforestry and the seasons.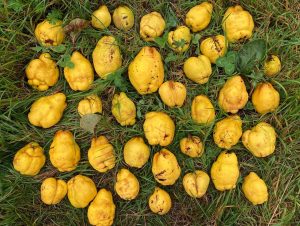 Join us for a day of baking with quince, cooking with quince and preserving quince. The day will begin with the Wakelyns Bakery team. They will introduce you to the bakery's core values and how the kitchen works in relationship with the farm and local food producers and the work that they are doing together to build a stronger, more resilient, joyful and delicious localised and sustainable food system.
After tea, coffee and biscuits, we'll walk the farm and see agroforestry in action. We will harvest quince and bring them back to the bakery to wash and prepare. Using other ingredients from the farm and local producers, we will then make wholegrain YQ cakes with the quince, and prepare some delicious dishes with them for lunch. In the afternoon we'll make our own jam and chutney. As it really is quince day there'll be poetry, music and other quince anecdotes too.
What you will learn:
an understanding of the agroforestry system and its diversity, resilience and productivity
how to make cakes, biscuits and more with wholegrain flour
how to adapt baking and cooking recipes to the seasons
interesting flavour combinations and the tastes and textures for creating your own
how to preserve quince
what is the 'YQ' ORC Wakelyns population wheat
What is included:
refreshments throughout the day from elevenses to lunch to tea and cake
your creations from the day to take home – cake, biscuits and preserve
Bookings